WELLBEING IN THE WORKPLACE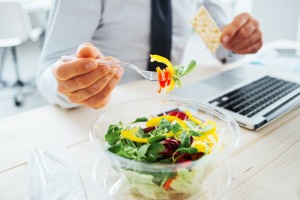 A healthy workforce is a happy and more productive workforce. The benefits to any company when employees take responsibility for their health can include: increased morale, better attendance, improved productivity, improved ability to concentrate and a positive approach to managing stress.
I can offer a range of services designed for your Company's needs as part of your employee welfare scheme, for example:
Employee wellbeing consultation programmes: these would be on-site nutrition clinics so that employees have access to personal nutritional consultations, giving individual attention in the strictest confidence.
Educational workshops and seminars.
Developing programmes that enhance healthy eating in the workplace.
Auditing employer's on-site catering facilities with the aim of improving menus and cooking practices.
Full or half-day drop in clinic offering one-to-one consultations.
Tailored Seminars
Whoever your employees are, the presentations will motivate everyone to think about how they can change their eating habits. Topics can vary, here are some ideas :
How to beat stress and fatigue
Stress and IBS
Foods to boost immunity
Healthy weight loss
General healthy eating
How to feed the brain and prevent dementia
Improve sleeping patterns
How to look after your heart
Additional Options:
Talks to specific groups such as shift workers, sale people on the road and middle managers who face stress, which affects sleeping and mental wellbeing.
Seminar Options :
Seminar for smaller staff groups (10-20 employees)
Presentations to larger groups (up to 150 employees)
Stand alone sessions
Programme of sessions over time
If you are interested in finding out more about workplace clinics and workshops or would like a bespoke corporate package, please contact me.