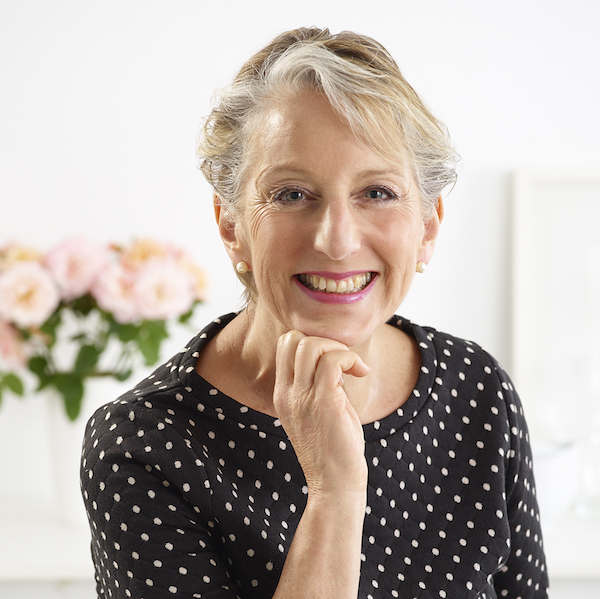 Food has been the story of my life!!  I have had a successful career as a cookery writer and food stylist for over 30 years having trained as a home economist. So every day I have been involved with food on a professional level and had insights into the food manufacturing business and beyond.  Having published 18 cookery books and written thousands of recipes I have always tried to communicate ideas for healthy eating through easy to make recipes with fresh, everyday ingredients. I started cooking from an early age, encouraged by my parents and given a free reign in the kitchen to experiment, it seemed a natural progression to have a career with food.
I recognised how healthily my grandmother cooked, everything from scratch, often using the most humble of ingredients to create delicious food, and never knowing what convenience foods were.  She lived to a ripe old age of 99 and was rarely ill, her strong immune system probably due to her clean diet.  I have always cooked from scratch, and believe you then have the most control of what you eat by carefully choosing the freshest of ingredients and making the best of seasonal produce.
For most of my adult life I have been troubled with back problems and sought treatments from many different therapists, awakening my interest in complementary medicine. The path to becoming a nutritional therapist took many years to take, and embarking on 4 years of studying was challenging. I studied at the world-renowned Institute of Optimum Nutrition in London, enjoying the whole process of immersing myself in the world of nutrition. I now feel very privileged to be able to help people realise their potential of good health.
I love to talk to people either on a one-to-one basis or deliver a workshop. I believe sharing knowledge can be both educational and inspiring to motivate anyone to make food changes and make them feel better. My approach is to carefully support clients to achieve their goals whilst being realistic about each person's situation.
I like to offer help and advice that is achievable and fits with your lifestyle. I believe food should both nourish the body, be delicious and easy to prepare, and I hope you find fun to make with my recipes.
We eat three to five meals a day, that's three to five opportunities to improve our healthsays Lorna
I am a fully-qualified Nutritional Therapist, a full member of BANT (British Association of Applied Nutrition and Nutritional Therapy), and also registered with the CNHC (Complimentary and Natural Healthcare Council), the only register for Nutritional Therapy supported by the Department of Health. BANT therapists are trained, certified, licensed and insured to use scientific nutritional knowledge in a therapeutic healing way.
Certification from the Nutritional Therapy Education Commission: Cancer Nutritional support, before, during and after treatment and beyond. DNAlife Diploma (Nordic Laboratories).